See Wiki Achievements for achievements in the Wiki.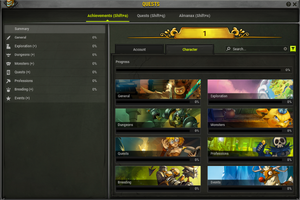 Achievements in Dofus act as a reward system for completing a range of activities.
Completing Achievements grant various rewards like: level-based XP and Kamas, items linked to the goal of the achievement, Achievement Points, Ornaments and Titles.
In total there are 1307 Achievements, split between eight categories and 14,262 Achievement Points.
A general guideline to achievements can be found on Achievement/Guide.
Table of Achievements
Edit
Achievements are broken down into their sub-categories - General, Exploration, Dungeons, Monsters, Quests, Professions, Breeding, and Events - which can be found below.

| Name | Objective | Reward | Ornament | Title |
| --- | --- | --- | --- | --- |
| Beginner | Reach level 10 | 1 Achievement Point, Level-Based XP | | |
| Novice | Reach level 20 | 1 Achievement Point, Level-Based XP | | |
| Amateur | Reach level 40 | 1 Achievement Point, Level-Based XP | | |
| Plebe | Reach level 60 | 1 Achievement Point, Level-Based XP | | |
| Minion | Reach level 80 | 1 Achievement Point, Level-Based XP | | |
| Recruit | Reach level 100 | 1 Achievement Point, Level-Based XP | | |
| Cadet | Reach level 120 | 1 Achievement Point, Level-Based XP | | |
| Junior | Reach level 140 | 1 Achievement Point, Level-Based XP | | |
| Hopeful | Reach level 160 | 1 Achievement Point, Level-Based XP | | |
| Senior | Reach level 180 | 1 Achievement Point, Level-Based XP | | |
| Veteran | Reach level 200 | 1 Achievement Point, Level-Based XP | | |
| A Bit Renowned | Earn 500 Achievement Points | 21,990 Kamas, Level-Based XP (Max: 1,312,500), 1 K-Signal | | |
| Rather Successful | Earn 1,000 Achievement Points | 21,990 Kamas, Level-Based XP (Max: 1,312,500), 1 Corvo-Signal, 1 Arbo-Signal | | |
| King of the Sandpit | Earn 1,337 Achievement Points | 43,980 Kamas, Level-Based XP (Max: 2,625,000) | | |
| Not Bad Going | Earn 4,000 Achievement Points | 43,980 Kamas, Level-Based XP (Max: 5,250,000) | | |
| I Read Your Blog | Earn 6,000 Achievement Points | 43,980 Kamas, Level-Based XP (Max: 7,875,000) | | |
| You Point to the Moon, They Look At Your Finger | Earn 8,000 Achievement Points | 43,980 Kamas, Level-Based XP (Max: 10,500,000) | | |
| You. And the others | Earn 10,000 Achievement Points | 43,980 Kamas, Level-Based XP (Max: 13,125,000) | | |
| Blood, Work, Sweat and Tears | Earn 12,000 Achievement Points | 43,980 Kamas, Level-Based XP (Max: 13,125,000) | | |
| A New Hope | Earn 14,000 Achievement Points | 43,980 Kamas, Level-Based XP (Max: 13,125,000) | | |
| Enurado (achievement) | Complete the following achievements: | 30 Achievement Points, 131,940 Kamas, Level-Based XP (Max: 7,875,000) | | |
| Srambad (achievement) | Complete the following achievements: | 30 Achievement Points, 131,940 Kamas, Level-Based XP (Max: 7,875,000) | | |
| Xelorium (achievement) | Complete the following achievements: | 30 Achievement Points, 131,940 Kamas, Level-Based XP (Max: 7,875,000) | | |
| New Wave | Complete the following achievements: | 30 Achievement Points, 131,940 Kamas, Level-Based XP (Max: 7,875,000) | | |
Exploration
Edit
Dungeons
Edit
| Name | Objective | Reward | Ornament | Title |
| --- | --- | --- | --- | --- |
| Piece of Cake | Complete 10 Dungeon challenges against groups of a level higher than or equal to your own. | 10 Achievement Points, 43,980 Kamas, Level-Based XP (Max: 2,600,00) | | |
| Vigilant | Complete 100 Dungeon challenges against groups of a level higher than or equal to your own. | 20 Achievement Points, 43,980 Kamas, Level-Based XP (Max: 5,200,000) | | |
| Mission Impossible | Complete the following achievements: | 100 Achievement Points, 43,980 Kamas, Level-Based XP (Max: 26,000,000) | | Giant With Feet of Dismay |
| Mission Impossible II | Complete the following achievements: | 100 Achievement Points, 43,980 Kamas, Level-Based XP (Max: 26,000,000) | | Youth Idol |
Monsters
Edit
| Name | Objective | Reward | Ornament | Title |
| --- | --- | --- | --- | --- |
| Rise To The Challenge | Complete 1 challenge against groups of a level higher than or equal to your own. | 1 Achievement Point, Level-Based XP (Max: 260,000) | | |
| With Hands Tied | Complete 10 challenges against groups of a level higher than or equal to your own. | 10 Achievement Points, Level-Based XP (Max: 2,600,000) | | |
| Challenge Accepted | Complete 100 challenges against groups of a level higher than or equal to your own. | 20 Achievement Points, Level-Based XP (Max: 3,900,000) | | |
| With Eyes Closed | Complete 1000 challenges against groups of a level higher than or equal to your own. | 30 Achievement Points, Level-Based XP (7,800,000) | | |
| Trapper By Nature | Complete the following achievements: | 50 Achievement Points, 43,980 Kamas, Level-Based XP (Max: 13,000,000) | | |
| A River of Blood Runs Through It | Complete the following achievements: | 100 Achievement Points, 43,980 Kamas, Level-Based XP (Max: 26,000,000) | | |
Name
Objective
Reward
Ornament
Title
From Incarnam to Astrub
Obtain the following achievements:
30 Achievement Points, 4,760 Kamas, Level-Based XP (Max: 508,536), Silver Dofus
Wondering Wanderers
Obtain the following achievements:
30 Achievement Points, 23,960 Kamas, Level-Based XP (Max: 4,056,000)

Stopgap

Otomai's Treasure
Obtain the following achievements:
30 Achievement Points, 87,960 Kamas, Level-Based XP (Max: 10,400,000)
The Mysteries of Frigost
Obtain the following achievements:
30 Achievement Points, 87,960 Kamas, Level-Based XP (Max: 10,400,000)
In Quest of Proof
Complete 10 quests.
1 Achievement Point, 4,398 Kamas, Level-Based XP (Max: 260,000)
In Quest of Truth
Complete 50 quests.
5 Achievement Points, 21,990 Kamas, Level-Based XP (Max: 1,300,000)
In Quest of Solutions
Complete 100 quests.
10 Achievement Points, 43,980 Kamas, Level-Based XP (Max: 2,600,000)

Investigator

In Quest of Sense
Complete 200 quests.
20 Achievement Points, 87,960 Kamas, Level-Based XP (Max: 5,200,000)
In Quest of Identity
Complete 300 quests.
30 Achievement Points, 131,940 Kamas, Level-Based XP (Max: 7,800,000)

Marabout

In Quest of Self
Complete 400 quests.
40 Achievement Points, 175,920 Kamas, Level-Based XP (Max: 10,400,000)
In Quest of Recognition
Complete 500 quests.
50 Achievement Points, 219,900 Kamas, Level-Based XP (Max: 13,000,000)

Truth Seeker

In Quest of Respect
Complete 600 quests.
60 Achievement Points, 263,880 Kamas, Level-Based XP (Max: 15,600,000)
In Quest of Glory
Complete 700 quests.
70 Achievement Points, 307,860 Kamas, Level-Based XP (Max: 18,200,000)

Chaser of Myths

In Quest of Victory
Complete 800 quests.
80 Achievement Points, 351,840 Kamas, Level-Based XP (Max: 20,800,000)
In Quest of Exploits
Complete 900 quests.
90 Achievement Points, 395,820 Kamas, Level-Based XP (Max: 23,400,000)

Meddling Kid

In Quest of Heroes
Complete 1000 quests.
100 Achievement Points, 439,800 Kamas, Level-Based XP (Max: 26,000,000)
Professions
Edit
| Name | Objective | Reward | Ornament | Title |
| --- | --- | --- | --- | --- |
| Too Many Of These | Shatter 1 Bow Meow pet in a Crusher. | 1 Achievement Point, 4,398 Kamas, Level-Based XP (Max: 260,000) | | |
| Breakdance | Make 100 Runes by shattering items. | 1 Achievement Point, 4,398 Kamas, Level-Based XP (Max: 260,000) | | |
| Shattered | Make 1,000 Runes by shattering items. | 1 Achievement Point, 8,796 Kamas, Level-Based XP (Max: 520,000) | | |
| Tourin Breaks | Make 10,000 Runes by shattering items. | 10 Achievement Point, 43,980 Kamas, Level-Based XP (Max: 2,600,000) | | |
| In It Together | Craft an item in co-op mode. | 1 Achievement Point, Level-Based XP (Max: 260,000) | | |
| All On Your Own | Craft 1 item. | 1 Achievement Point, 4,398 Kamas, Level-Based XP (Max: 260,000) | | |
| Repetitive Drain  | Craft 100 items. | 1 Achievement Point, 8,796 Kamas, Level-Based XP (Max: 520,000) | | |
| Machine! | Craft 1,000 items. | 1 Achievement Point, 13,194 Kamas, Level-Based XP (Max: 780,000) | | |
| Production Line | Craft 10,000 items. | 20 Achievement Point, 43,980 Kamas, Level-Based XP (Max: 5,200,000) | | |
| Apprentice  | Reach level 10 in a Profession. | 1 Achievement Point, 4,398 Kamas, Level-Based XP (Max: 260,000) | | |
| Earner  | Reach level 100 in a Profession. | 1 Achievement Point, 21,990 Kamas, Level-Based XP (Max: 1,300,000) | | |
| Breadwinner | Reach level 200 in a Profession. | 10 Achievement Point, 43,980 Kamas, Level-Based XP (Max: 2,600,000) | | |
| Dabhand | Reach level 200 in two Professions. | 10 Achievement Point, 43,980 Kamas, Level-Based XP (Max: 2,600,000) | | |
| Elbow Grease | Reach level 200 in three Professions. | 20 Achievement Point, 43,980 Kamas, Level-Based XP (Max: 5,200,000) | | |
| My Little Empire | Complete the following achievements: | 30 Achievement Point, 43,980 Kamas, Level-Based XP (Max: 7,800,000) | | << The Empra >> |
Breeding
Edit
Name
Objective
Reward
Ornament
Title
Catch It If You Can
Capture the wild mounts:
10 Achievement Points, 43,980 Kamas, Level-Based XP (Max: 2,600,000)
Snippety Snip!
Castrate a Dragoturkey.
10 Achievement Points, 43,980 Kamas, Level-Based XP (Max: 2,600,000)
Freedom Won't Let You Down
Free a Dragoturkey.
10 Achievement Points, 43,980 Kamas, Level-Based XP (Max: 2,600,000)
Pregnant Or Just Fat?
Bring 1 mount into the World.
1 Achievement Points, 43,980 Kamas, Level-Based XP (Max: 2,600,000)
Matron
Bring 10 mounts into the World.
10 Achievement Points, 43,980 Kamas, Level-Based XP (Max: 2,600,000)
A Star Is Born
Bring 100 mounts into the World.
20 Achievement Points, 43,980 Kamas, Level-Based XP (Max: 5,200,000)
And Push!
Bring 1,000 mounts into the World.
30 Achievement Points, 43,980 Kamas, Level-Based XP (Max: 7,800,000)

Excitable Obstetrician

First Generation
Succeed in breeding all the types of first-generation Dragoturkey:

Almond Dragoturkey
Golden Dragoturkey
Ginger Dragoturkey

10 Achievement Points, 43,980 Kamas, Level-Based XP (Max: 2,600,000)
Second Generation
Succeed in breeding all the types of second-generation Dragoturkey:

Almond and Ginger Dragoturkey
Golden and Ginger Dragoturkey
Almond and Golden Dragoturkey

10 Achievement Points, 43,980 Kamas, Level-Based XP (Max: 2,600,000)
Third Generation
Succeed in breeding all the types of third-generation Dragoturkey:

Ebony Dragoturkey
Indigo Dragoturkey

20 Achievement Points, 43,980 Kamas, Level-Based XP (Max: 5,200,000)
Fourth Generation
Succeed in breeding all the types of fourth-generation Dragoturkey:

Indigo and Ginger Dragoturkey
Ebony and Ginger Dragoturkey
Almond and Indigo Dragoturkey
Almond and Ebony Dragoturkey
Golden and Indigo Dragoturkey
Golden and Ebony Dragoturkey
Ebony and Indigo Dragoturkey

20 Achievement Points, 43,980 Kamas, Level-Based XP (Max: 5,200,000)
Fifth Generation
Succeed in breeding all the types of fifth-generation Dragoturkey:

Crimson Dragoturkey
Orchid Dragoturkey

30 Achievement Points, 43,980 Kamas, Level-Based XP (Max: 7,800,000)
Sixth Generation
Succeed in breeding all the types of sixth-generation Dragoturkey:

Crimson and Ginger Dragoturkey
Orchid and Ginger Dragoturkey
Almond and Crimson Dragoturkey
Almond and Orchid Dragoturkey
Golden and Crimson Dragoturkey
Golden and Orchid Dragoturkey
Indigo and Crimson Dragoturkey
Indigo and Orchid Dragoturkey
Ebony and Crimson Dragoturkey
Ebony and Orchid Dragoturkey
Orchid and Crimson Dragoturkey

30 Achievement Points, 43,980 Kamas, Level-Based XP (Max: 7,800,000)
Seventh Generation
Succeed in breeding all the types of seventh-generation Dragoturkey:

Ivory Dragoturkey
Turquoise Dragoturkey

40 Achievement Points, 43,980 Kamas, Level-Based XP (Max: 10,400,000)
Eighth Generation
Succeed in breeding all the types of eighth-generation Dragoturkey:

Ivory and Ginger Dragoturkey
Turquoise and Ginger Dragoturkey
Almond and Ivory Dragoturkey
Almond and Turquoise Dragoturkey
Golden and Ivory Dragoturkey
Golden and Turquoise Dragoturkey
Indigo and Ivory Dragoturkey
Indigo and Turquoise Dragoturkey
Ebony and Ivory Dragoturkey
Ebony and Turquoise Dragoturkey
Ivory and Crimson Dragoturkey
Turquoise and Crimson Dragoturkey
Ivory and Orchid Dragoturkey
Turquoise and Orchid Dragoturkey
Ivory and Turquoise Dragoturkey

40 Achievement Points, 43,980 Kamas, Level-Based XP (Max: 10,400,000)
Ninth Generation
Succeed in breeding all the types of ninth-generation Dragoturkey:

Emerald Dragoturkey
Plum Dragoturkey

50 Achievement Points, 43,980 Kamas, Level-Based XP (Max: 13,000,000)
Tenth Generation
Succeed in breeding all the types of tenth-generation Dragoturkey:

Emerald and Ginger Dragoturkey
Plum and Ginger Dragoturkey
Almond and Emerald Dragoturkey
Plum and Almond Dragoturkey
Golden and Emerald Dragoturkey
Plum and Golden Dragoturkey
Emerald and Indigo Dragoturkey
Plum and Indigo Dragoturkey
Ebony and Emerald Dragoturkey
Plum and Ebony Dragoturkey
Emerald and Crimson Dragoturkey
Plum and Crimson Dragoturkey
Emerald and Orchid Dragoturkey
Plum and Orchid Dragoturkey
Emerald and Ivory Dragoturkey
Plum and Ivory Dragoturkey
Emerald and Turquoise Dragoturkey
Plum and Turquoise Dragoturkey
Plum and Emerald Dragoturkey

50 Achievement Points, 43,980 Kamas, Level-Based XP (Max: 13,000,000)
Talking 'Bout The Generations
Complete the following achievements:

First Generation
Second Generation
Third Generation
Fourth Generation
Fifth Generation
Sixth Generation
Seventh Generation
Eighth Generation
Ninth Generation
Tenth Generation

50 Achievement Points, 219,900 Kamas, Level-Based XP (Max: 13,000,000)
The First Time
Mate two mounts.
1 Achievement Points, 43,980 Kamas, Level-Based XP (Max: 2,600,000)
Love Dragtually
Mate two mounts 10 times.
10 Achievement Points, 43,980 Kamas, Level-Based XP (Max: 2,600,000)
Hush Little Baby
Mate two mounts 100 times.
20 Achievement Points, 43,980 Kamas, Level-Based XP (Max: 5,200,000)
Matchmaker
Mate two mounts 1,000 times.
30 Achievement Points, 43,980 Kamas, Level-Based XP (Max: 7,800,000)
Who's The Daddy?
Complete the following achievements:
100 Achievement Points, 439,800 Kamas, Level-Based XP (Max: 26,000,000)
Kwismas Island
Edit
Name
Objective
Reward
Ornament
Title
Kwismas Dungeon
Defeat the Itzting in it's dungeon.
10 Achievement Points, 3,480 Kamas, Level-Based XP (Max: 201,825), 10 Ridiculous Kwismas Gift
Itzting (Chrono)
Defeat the Itzting in its dungeon in less than 9 turns.
10 Achievement Points, 3,480 Kamas, Level-Based XP (Max: 302,737), 10 Ridiculous Kwismas Gift
Itzting (Impertinence)
Defeat the Itzting in its dungeon. Character must end their turn on a cell adjacent to an adversary.
10 Achievement Points, 3,480 Kamas, Level-Based XP (Max: 201,825), 10 Ridiculous Kwismas Gift
Itzting (Blitzkrieg)
Defeat the Itzting in its dungeon. As soon as an opponent takes damage, it must be killed before it starts its next turn.
10 Achievement Points, 3,480 Kamas, Level-Based XP (Max: 403,650), 10 Ridiculous Kwismas Gift
Itzting (Duo)
Defeat the Itzting in its dungeon with 2 characters maximum in less than 20 turns.
20 Achievement Points, 3,480 Kamas, Level-Based XP (Max: 605,475), 10 Ridiculous Kwismas Gift
The Dungeon Myth
Finish the following achievements:
10 Achievement Points, 3,498 Kamas, Level-Based XP (Max: 403,650), 10 Ridiculous Kwismas Gift
Kwismas Cavern
Defeat Father Kwismas in his dungeon.
10 Achievement Points, 14,280 Kamas, Level-Based XP (Max: 1,286,227), 10 Incredible Kwismas Gift
Father Kwismas (Chrono)
Defeat Father Kwismas in his dungeon in less than 9 turns.
10 Achievement Points, 14,280 Kamas, Level-Based XP (Max: 1,929,341), 10 Incredible Kwismas Gift
Father Kwismas (First)
Defeat Father Kwismas first in his dungeon.
10 Achievement Points, 14,280 Kamas, Level-Based XP (Max: 1,929,341), 10 Incredible Kwismas Gift
Father Kwismas (Statue)
Defeat Father Kwismas in his dungeon. Characters must end their turn on the same cell they started on.
10 Achievement Points, 14,280 Kamas, Level-Based XP (Max: 2,572,455), 10 Incredible Kwismas Gift
Father Kwismas (Duo)
Defeat Father Kwismas in his dungeon with 2 characters maximum in less than 20 turns.
20 Achievement Points, 14,280 Kamas, Level-Based XP (Max: 3,858,683), 10 Incredible Kwismas Gift
The Cavern Myth
Complete the following achievements:
10 Achievement Points, 14,280 Kamas, Level-Based XP (Max: 2,572,455), 10 Incredible Kwismas Gift
Father Kwismas's House
Defeat Father Whupper in his dungeon.
10 Achievement Points, 35,980 Kamas, Level-Based XP (Max: 2,414,172), 10 Potentially Ultra-Powerful Kwismas Gift
Father Whupper (Chrono)
Defeat Father Whupper in his dungeon in less than 9 turns.
10 Achievement Points, 35,980 Kamas, Level-Based XP (Max: 3,621,259), 10 Potentially Ultra-Powerful Kwismas Gift
Father Whupper (Nomad)
Defeat Father Whupper in his dungeon. Character must use all the MP available to them and avoid being locked.
10 Achievement Points, 35,980 Kamas, Level-Based XP (Max: 3,621,259), 10 Potentially Ultra-Powerful Kwismas Gift
Father Whupper (Impertinence)
Defeat Father Whupper in his dungeon. Character must end their turn on a cell adjacent to an adversary.
10 Achievement Points, 35,980 Kamas, Level-Based XP (Max: 4,828,345), 10 Potentially Ultra-Powerful Kwismas Gift
Father Whupper (Duo)
Defeat Father Whupper with 2 characters maximum in less than 20 turns.
20 Achievement Points, 35,980 Kamas, Level-Based XP (Max: 7,242,518), 10 Potentially Ultra-Powerful Kwismas Gift
The House Myth
Complete the following achievements:
10 Achievement Points, 35,980 Kamas, Level-Based XP (Max: 4,828,345), 10 Potentially Ultra-Powerful Kwismas Gift
Stuffing and Nonsense
Complete the following achievements:
20 Achievement Points, 71,960 Kamas, Level-Based XP (Max: 7,242,518), 5 Ridiculous Kwismas Gift, 5 Incredible Kwismas Gift, 5 Potentially Ultra-Powerful Kwismas Gift
Tears in Haven
Complete a challenge whilst defeating the following monsters:
10 Achievement Points, 3,480 Kamas, Level-Based XP (Max: 201,825), 10 Kwismas Gifts
Land of Contusion
Complete a challenge whilst defeating the following monsters:
10 Achievement Points, 14,280 Kamas, Level-Based XP (Max: 1,286,227), 10 Kwismas Gifts
I of the Taiga
Complete a challenge whilst defeating the following monsters:
10 Achievement Points, 35,980 Kamas, Level-Based XP (Max: 2,414,172), 10 Kwismas Gifts
Cheer Up, It Might Never 'Appen
Complete a challenge whilst defeating the following monsters:
10 Achievement Points, 25,480 Kamas, Level-Based XP (Max: 2,194,400), 10 Kwismas Gifts
Say Your Prayers
Obtain the following achievements:
20 Achievement Points, 71,960 Kamas, Level-Based XP (Max: 7,242,518), 15 Kwismas Gifts
Smile Like You Meanie
Complete the quest 'Blimpristed Is a Grinchy Grump' 1 time.
1 Achievement Point, 110 Kamas, Level-Based XP (Max: 4,955), 1 Kwismas Gift
Crack a Smile
Complete the quest 'Redolph Is a Grinchy Grump' 1 time.
1 Achievement Point, 890 Kamas, Level-Based XP (Max: 67,597), 1 Kwismas Gift
A Million Smiles Away
Complete the quest 'Roachelf Is a Grinchy Grump' 1 time.
1 Achievement Point, 1,810 Kamas, Level-Based XP (Max: 176,819), 1 Kwismas Gift
Gangman Smile
Complete the quest 'Oogie Betty Is a Grinchy Grump' time.
1 Achievement Point, 2,548 Kamas, Level-Based XP (Max: 219,440), 1 Kwismas Gift
Full Speed Ahead
Complete the following quests:
2 Achievement Point, 10,995 Kamas, Level-Based XP (Max: 650,000), 3 Kwismas Gift
Mavewick
Complete the following achievements:
10 Achievement Point, 43,980 Kamas, Level-Based XP (Max: 5,200,000), 15 Kwismas Gift
A Funny Kind of Kwismas
Complete the following quests:
20 Achievement Point, 87,960 Kamas, Level-Based XP (Max: 7,800,000), 15 Kwismas Gift
From Top to Tail
Discover the Kwismas Island.
10 Achievement Point, 43,980 Kamas, Level-Based XP (Max: 2,600,000), 10 Kwismas Gift
Kwismas Goblimp Intern
Craft 1 Scarlet Kwismas Gift.
1 Achievement Point, 41,990 Kamas, Level-Based XP (Max: 1,300,000), 10 Kwismas Gift
Kwismas Goblimp Apprentice
Craft 5 Scarlet Kwismas Gifts.
10 Achievement Point, 43,980 Kamas, Level-Based XP (Max: 2,600,000), 10 Kwismas Gift
Kwismas Goblimp Employee
Craft 25 Scarlet Kwismas Gifts.
10 Achievement Point, 65,970 Kamas, Level-Based XP (Max: 3,900,000), 10 Kwismas Gift
Kwismas Goblimp Specialist
Craft 50 Scarlet Kwismas Gifts.
20 Achievement Point, 87,960 Kamas, Level-Based XP (Max: 5,200,000), 10 Kwismas Gift
I've Kind Of Been Good
Open 1 Kwismas Gift
1 Achievement Point, Level-Based XP (Max: 1,300,000)
I've Been Good
Open 10 Kwismas Gift
1 Achievement Point, 21,990 Kamas, Level-Based XP (Max: 2,600,000)
I've Been So Good
Open 100 Kwismas Gift
10 Achievement Point, 43,980 Kamas, Level-Based XP (Max: 3,900,000), 10 Kwismas Gift
I've Been So, So Good
Open 1000 Kwismas Gift
20 Achievement Point, 65,970 Kamas, Level-Based XP (Max: 5,200,000), 10 Kwismas Gift
What's Inside
Open 1 Thwee Kings Gift
1 Achievement Point, 21,990 Kamas, Level-Based XP (Max: 1,300,000), 5 Kwismas Gift
Kwismas Treats
Eat the following Treats:
1 Achievement Point, 43,980 Kamas, Level-Based XP (Max: 2,600,000), 5 Kwismas Gift
Kwismas Sweets
Eat the following sweet Treats:
1 Achievement Point, 43,980 Kamas, Level-Based XP (Max: 2,600,000), 5 Kwismas Gift
Present and Correct
Complete the following achievements:
20 Achievement Point, 87,960 Kamas, Level-Based XP (Max: 7,800,000), 15 Kwismas Gift
Rollin' Kwismas
Complete the following achievements:
20 Achievement Point, 87,960 Kamas, Level-Based XP (Max: 7,800,000)
Rockin' Kwismas
Complete the following achievements:
20 Achievement Point, 71,960 Kamas, Level-Based XP (Max: 7,242,518)
Wick Astley
Own 1 Wicked Protector.
10 Achievement Point, 18,105 Kamas, Level-Based XP (Max: 1,768,199), 10 Kwismas Gift
Wick Carter
Own 1 Wicked Roundel.
10 Achievement Point, 20,905 Kamas, Level-Based XP (Max: 2,108,311), 10 Kwismas Gift
Wick Jagger
Own 1 Wicked Shield.
10 Achievement Point, 25,480 Kamas, Level-Based XP (Max: 2,194,400), 10 Kwismas Gift
It's Kwiiiismas!
Complete the following achievements:
30 Achievement Points, 87,960 Kamas, Level-Based XP (Max: 10,400,000)
Vulkanian Archipelago
Edit
| Name | Objective | Reward | Ornament | Title |
| --- | --- | --- | --- | --- |
| Sleepwalking Pinky Crater | Defeat Sleepwalking Grozilla and Grasmera in their dungeon. | 10 Achievement Points, 3,480 Kamas, Level-Based XP (Max: 201,825), 1 Grozilla False Tooth, 10 Grozilla Scale | | |
| Sleepwalking Grozilla and Grasmera (Chrono) | Defeat Sleepwalking Grozilla and Grasmera in their dungeon in less than 9 turns. | 10 Achievement Points, 3,480 Kamas, Level-Based XP (Max: 302,737), 1 Grozilla False Tooth, 10 Grozilla Scale | | |
| Sleepwalking Grozilla and Grasmera (Statue) | Defeat Sleepwalking Grozilla and Grasmera in their dungeon. Characters must end their turn on the same cell they started on. | 10 Achievement Points, 3,480 Kamas, Level-Based XP (Max: 302,737), 1 Grozilla False Tooth, 10 Grozilla Scale | | |
| Sleepwalking Grozilla and Grasmera (Clean Hands) | Defeat Sleepwalking Grozilla and Grasmera in their dungeon. Adversaries must be finished off using indirect damage. | 10 Achievement Points, 3,480 Kamas, Level-Based XP (Max: 403,650), 1 Grozilla False Tooth, 10 Grozilla Scale | | |
| Sleepwalking Grozilla and Grasmera (Duo) | Defeat Sleepwalking Grozilla and Grasmera in their dungeon with 2 characters maximum in less than 20 turns. | 20 Achievement Points, 3,480 Kamas, Level-Based XP (Max: 605,475), 1 Grozilla False Tooth, 10 Grozilla Scale | | |
| Sleepwalking on the Wild Side | Complete the following achievements: | 10 Achievement Points, 3,480 Kamas, Level-Based XP (Max: 403,650), 1 Grozilla False Tooth, 10 Grozilla Scale | | |
| Exhausted Pinky Crater | Defeat Exhausted Grozilla and Grasmera in their dungeon. | 10 Achievement Points, 11,980 Kamas, Level-Based XP (Max: 1,014,000), 1 Grasmera's Pouch of Coal, 10 Grasmera Scale | | |
| Exhausted Grozilla and Grasmera (Chrono) | Defeat Exhausted Grozilla and Grasmera in their dungeon in less than 9 turns. | 10 Achievement Points, 11,980 Kamas, Level-Based XP (Max: 1,521,000), 1 Grasmera's Pouch of Coal, 10 Grasmera Scale | | |
| Exhausted Grozilla and Grasmera (First) | Defeat Exhausted Grasmera first in his dungeon. | 10 Achievement Points, 11,980 Kamas, Level-Based XP (Max: 1,521,000), 1 Grasmera's Pouch of Coal, 10 Grasmera Scale | | |
| Exhausted Grozilla and Grasmera (Tight) | Defeat Exhausted Grozilla and Grasmera in their dungeon. Characters must end their turn on a cell adjacent to an ally. | 10 Achievement Points, 11,980 Kamas, Level-Based XP (Max: 2,028,000), 1 Grasmera's Pouch of Coal, 10 Grasmera Scale | | |
| Exhausted Grozilla and Grasmera (Duo) | Defeat Exhausted Grozilla and Grasmera in their dungeon with 2 characters maximum in less than 20 turns. | 20 Achievement Points, 11,980 Kamas, Level-Based XP (Max: 3,042,000), 1 Grasmera's Pouch of Coal, 10 Grasmera Scale | | |
| Beyond Exhausted | Complete the following achievements: | 10 Achievement Points, 11,980 Kamas, Level-Based XP (Max: 2,028,000), 1 Grasmera's Pouch of Coal, 10 Grasmera Scale | | |
| Tired Pinky Crater | Defeat Tired Grozilla and Grasmera in their dungeon. | 10 Achievement Points, 25,480 Kamas, Level-Based XP (Max: 2,194,400), 1 Grozilla Ardent Bezoar, 10 Grozilla Dorsal Spine | | |
| Tired Grozilla and Grasmera (Chrono) | Defeat Tired Grozilla and Grasmera in their dungeon in less than 9 turns. | 10 Achievement Points, 25,480 Kamas, Level-Based XP (Max: 3,291,600), 1 Grozilla Ardent Bezoar, 10 Grozilla Dorsal Spine | | |
| Tired Grozilla and Grasmera (Nomad) | Defeat Tired Grozilla and Grasmera in their dungeon. Characters must use all the MP available to them and avoid being locked. | 10 Achievement Points, 25,480 Kamas, Level-Based XP (Max: 3,291,600), 1 Grozilla Ardent Bezoar, 10 Grozilla Dorsal Spine | | |
| Tired Grozilla and Grasmera (Blitzkrieg) | Defeat Tired Grozilla and Grasmera in their dungeon. As soon as an opponent takes damage, it must be killed before it starts its next turn. | 10 Achievement Points, 25,480 Kamas, Level-Based XP (Max: 4,388,800), 1 Grozilla Ardent Bezoar, 10 Grozilla Dorsal Spine | | |
| Tired Grozilla and Grasmera (Duo) | Defeat Tired Grozilla and Grasmera in their dungeon with 2 characters maximum in less than 20 turns. | 20 Achievement Points, 25,480 Kamas, Level-Based XP (Max: 6,583,200), 1 Grozilla Ardent Bezoar, 10 Grozilla Dorsal Spine | | |
| Tired and Emotional | Complete the following achievements: | 10 Achievement Points, 25,480 Kamas, Level-Based XP (Max: 4,388,800), 1 Grozilla Ardent Bezoar, 10 Grozilla Dorsal Spine | | |
| Pinky Crater | Defeat Grozilla and Grasmera in their dungeon. | 10 Achievement Points, 43,980 Kamas, Level-Based XP (Max: 2,600,000), 1 Grasmera's Pouch of Magma, 10 Grasmera's Bony Joint | | |
| Grozilla and Grasmera (Chrono) | Defeat Grozilla and Grasmera in their dungeon in less than 9 turns. | 10 Achievement Points, 43,980 Kamas, Level-Based XP (Max: 3,900,000), 1 Grasmera's Pouch of Magma, 10 Grasmera's Bony Joint | | |
| Grozilla and Grasmera (Zombie) | Defeat Grozilla and Grasmera in their dungeon. Characters must use exactly one MP per turn. | 10 Achievement Points, 43,980 Kamas, Level-Based XP (Max: 3,900,000), 1 Grasmera's Pouch of Magma, 10 Grasmera's Bony Joint | | |
| Grozilla and Grasmera (Impertinence) | Defeat Grozilla and Grasmera in their dungeon. Characters must end their turn on a cell adjacent to an adversary. | 10 Achievement Points, 43,980 Kamas, Level-Based XP (Max: 5,200,000), 1 Grasmera's Pouch of Magma, 10 Grasmera's Bony Joint | | |
| Grozilla and Grasmera (Duo) | Defeat Grozilla and Grasmera in their dungeon with 2 characters maximum in less than 20 turns. | 20 Achievement Points, 43,980 Kamas, Level-Based XP (Max: 7,800,000), 1 Grasmera's Pouch of Magma, 10 Grasmera's Bony Joint | | |
| Fighting Fit | Complete the following achievements: | 10 Achievement Points, 43,980 Kamas, Level-Based XP (Max: 5,200,000), 1 Grasmera's Pouch of Magma, 10 Grasmera's Bony Joint | | |
| Large and Lardy | Complete the following achievements: | 20 Achievement Points, 87,960 Kamas, Level-Based XP (Max: 7,800,000) | | |
| Juvenile Sauroshells | Complete a Challenge whilst defeating the following monsters: | | | |
| Novice Sauroshells | Complete a Challenge whilst defeating the following monsters: | | | |
| Mature Sauroshells | Complete a Challenge whilst defeating the following monsters: | | | |
| Venerable Sauroshells | Complete a Challenge whilst defeating the following monsters: | | | |
| A Giant Omelette | Complete the following achievements: | 20 Achievement Points, 68,210 Kamas, Level-based XP (Max: 7,118,475) | | |
| Vulkorog Forever | Complete the following quests and obtain 20 Vulkorog Scarves: | | | |
| Otomaisle Forever | Complete the following quests and obtain 20 Otomaisle Scarves: | | | |
| Hunting Trophy | Complete the following quests: | 10 Achievement Points, 43,561 Kamas, Level-based XP (Max: 5,200,000), 1 Grofus | | |
| A Seasonal Stamp | Complete the following quests: | | | |
| Behind the Screens | Complete the following quests: | | | |
| Vulkanian Activities | Complete the following achievements: | 10 Achievement Points, 43,561 Kamas, Level-based XP (Max: 5,200,000) | | |
| Archipelago of Vulkania | Explore the archipelago of Vulkania. | 1 Achievement Point, Level-based XP (Max: 2,080,000) | | |
| Vulkania's Craters | Explore Vulkania's craters. | 1 Achievement Point, Level-based XP (Max: 1,300,000) | | |
| Vulkanian Specialities | Consume the following items: | 1 Achievement Point, 21,990 Kamas, Level-based XP (Max: 1,300,000) | | |
| Sacred Volcanoes | Complete the following achievements: | 30 Achievement Point, 87,960 Kamas, Level-based XP (Max: 10,400,000) | Honourable Vulkanologist | |
Al Howin
Edit
| Name | Objective | Reward | Ornament | Title |
| --- | --- | --- | --- | --- |
| Al Howin's Vegetable Patch | Defeat Al Howin in his dungeon. | 10 Achievement Points, 11,980 Kamas, Level-Based XP (Max: 1,014,000), 1 Al Howin's False Teeth, 5 Cheweez, 10 Al Howin's Bristly Sideburns | | |
| Al Howin (Chrono) | Defeat Al Howin in his dungeon in less than 9 turns. | 10 Achievement Points, 11,980 Kamas, Level-Based XP (Max: 1,521,000), 1 Al Howin's False Teeth, 5 Cheweez, 10 Al Howin's Bristly Sideburns | | |
| Al Howin (Impertinence) | Defeat Al Howin in his dungeon. Characters must end their turn on a cell adjacent to an adversary. | 10 Achievement Points, 11,980 Kamas, Level-Based XP (Max: 1,521,000), 1 Al Howin's False Teeth, 5 Cheweez, 10 Al Howin's Bristly Sideburns | | |
| Al Howin (Last) | Defeat Al Howin last in his dungeon. | 10 Achievement Points, 11,980 Kamas, Level-Based XP (Max: 2,028,000), 1 Al Howin's False Teeth, 5 Cheweez, 10 Al Howin's Bristly Sideburns | | |
| Al Howin (Duo) | Defeat Al Howin in his dungeon with 2 characters maximum in less than 20 turns. | 20 Achievement Points, 11,980 Kamas, Level-Based XP (Max: 3,042,000), 1 Al Howin's False Teeth, 5 Cheweez, 10 Al Howin's Bristly Sideburns | | |
| Stew | Complete the following achievements: | 10 Achievement Points, 11,980 Kamas, Level-Based XP (Max: 2,028,000), 1 Al Howin's False Teeth, 5 Cheweez, 10 Al Howin's Bristly Sideburns | | |
| Little Terrors | Complete a challenge whilst defeating the following monsters: | 10 Achievement Points, 11,980 Kamas, Level-Based XP (Max: 1,014,000), 5 Api Lolly, 5 Lemon Lolly, 5 Plum Lolly, 5 Strawberry Lolly | | |
| There's Playing and There's Sucking | Use the following items: | 1 Achievement Point, 21,990 Kamas, Level-Based XP (Max: 507,000), 5 Cursed Pumpkwin Seeds | | |
External Links
Edit