Bwork Dungeon is a dungeon.
Not to be confused with the much harder Bworker Dungeon.
Bwork Dungeon is found at [-5,10] in the Bwork Village.
Entry requires giving a Bwork Dungeon Key to Bowork, which is consumed.
Mobs do not vary. Challenging is possible.
Solitary Confinement
Edit
After completing the 3rd room you are taken to a room containing a door to the next room and a pit in the middle. Falling down into the pit takes you to a room containing a Tamed Trool and Swimp the Simple. In order to leave the pit you must dodge the aggressive monsters and take the ladder.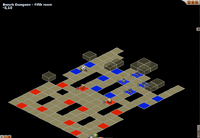 There's no longer a specific reward from Bwork Dungeon except the chance to find Bworkette.
Community content is available under
CC-BY-SA
unless otherwise noted.