In Dofus, you can choose from one of 18 different classes upon creating a new player character. Each class is endowed with their own set of unique abilities, as they grow in level, they can invest characteristic points to diverge as different elemental builds (Fire, Air, Earth/Neutral, Water). There are further pseudo-classes in the form of Incarnations and Sidekicks.
Class List
Edit
| Icon | Description | Main Class Roles and Specialisations |
| --- | --- | --- |
| Cra | As proud as they are accurate, Cras are the master archers. They are precious allies to those embroiled in a messy attack. From a distance, their bows, eyes and tight fists become one as their deadly arrows pierce through the melee, giving their enemy no respite. | |
| Ecaflip | Ecaflips are Warrior gamblers who always appear in the most surprising places. An Ecaflip is happiest when gambling - for all and for nothing. But be careful: it is a very serious matter for an Ecaflip. He won't hesitate to gamble his life on a throw of the dice to avoid paying his due... | |
| Eliotrope | Appearing accidentally, Eliotropes are reflections of their creator, the God-King. They move with the speed of lightning, and disappear in the blink of an eye only to reappear where you least expect them. Just like Eliatropes, they've mastered the secrets of Wakfu. | |
| Eniripsa | Eniripsas are healers with the power to ease your pain with a single word. Their potent utterances can either heal their allies or hurt their enemies. Some Eniripsas become word hunters, wandering the earth in search of obscure verbs and forgotten languages! | |
| Enutrof | Enutrofs are treasure hunters who are completely smitten with kamas, and who can, despite their advanced age, run like Dragoturkeys at the sight of a full vault. They're experts at slowing their enemies down; they can also bore them to tears - just before beating them over the head with a shovel when the time comes! | |
| Feca | Fecas are faithful protectors, always on the defensive. They hold an important place in groups of adventurers because of their protective powers enabling them to take massive hits in stride. They're also experts in the art of magic signs - when there's going to be a fight, the Fecas get out their glyphs! | |
| Foggernaut | The Foggernauts have more than one turret up their sleeves. Excellent tacticians, they use technomagic to control the battlefield. These marine inventors in their shining diving suits worship the Great Oktapodas, Protector of the Oceans. | |
| Huppermage | Damage Dealer Balance, a mysterious force that aims to maintain balance in the universe. | |
| Iop | Iops are go-getting warriors beyond reproach! One thing's for sure: Iops know how to use their weapons. They need to jump in a brawl at least once a day just to feel alive. Their impetuousness can make Iops the best of knights, but also the worst! | |
| Masqueraider | Masqueraiders wear magic masks which enable them to change face more often than they change their shirts. Turn after turn, they're either sticking like glue, enraged psychopaths or firm fans of strategic retreat. They can quickly adapt to any situation, but watch out for their moodswings! Legend has it, these unpredictable beings are blessed by Sadida himself. | |
| Osamodas | Osamodas are born creature tamers! They have the power to summon creatures and they are the greatest trainers. Rumour has it that they even cut their clothes from the skin of their enemies. Go ask them whether it's true or not... If you're on their side, they'll always be on hand with a minor heal. If not, well, we'll see if you end up as a boot or a fur-lined hat. | |
| Ouginak | When you're a barbarian with the nature of a Bow Wow, you have to know how to bare your teeth to get respected. A proud look, a shiny coat, a wet nose: that's how Ouginaks face their trials and overcome adversity. Relentlessly tracking their prey, letting their rage explode to crush their enemies, watching them die and listening to the terrorised miaowing of their Bow Meows... That's a life worth living! | |
| Pandawa | Pandawas are warriors versed in martial arts who know what they can get out of their bodies! And out of the bodies of others... Indeed, Pandawas can always get crowds moving: they don't hesitate to carry their allies on their shoulders to protect them, and as for their enemies, they'll send them hurtling before celebrating their victory with a big draught of bamboo milk! | |
| Rogue | Members of a clan originally created by Raval and the Smisse family, the Rogues have finally pledged allegiance to the god Eugor, who is none other than Sram. Masters of dirty tricks, backstabbing, time bombs and guns... the rogues only feel at home on dangerous grounds. | |
| Sacrier | Sacriers are berserkers whose powers increase with each hit! As they have nothing to fear from cuts or blows, they haunt the front lines in battle, ready to draw first blood! Sacriers are the perfect allies for those long, relentless battles. | |
| Sadida | Sadidas are summoners who poison the lives of their enemies. Taming brambles to form horrifying weapons, crafting war and healing dolls - these are a Sadida's bread and butter. | |
| Sram | Srams are assassins who love purses, especially when they're full! Folding up the tails of a new tunic, exploring the bottom of a pocket, nimbly fingering through the contents, stroking the valuables and drawing out the prize is what a Sram enjoys best - apart from placing deadly traps and administering mortal blows, of course... | |
| Xelor | Xelors are magi who can influence time. They also command obedience from all related mechanisms like chimes, clocks and pendulums. Therefore, Xelors enjoy playing with time... either to slow down their enemies or to teleport themselves wherever they want. | |
| Icon | Title | Description |
| --- | --- | --- |
| | Debuffer | Prevents movement or limits adversaries' actions. |
| | Tank | Keeps adversaries nearby to stop them from fleeing. |
| | Protector | Protects a target by reducing the damage they receive. |
| | Healer | Heals a target, giving them HP. |
| | Damage Dealer | Injures enemies to reduce their HP. |
| | Positioner | Controls their own movements or those of enemies. |
| | Summoner | Summons creatures which will help their master in combat. |
| | Buffer | Improves a target's abilities by giving them bonuses. |
Class Comparison
Edit
General Overview
Edit
Damage Dealers
Classes that serve as damage dealers, or DD, which includes but is not limited to classes such as Iop and Sram, are better adept at dealing large amounts of damage, whether from close quarters (Iop) or from range (Cra). Below are the three general roles assigned to each class, the most suitable first.
Supporters
Classes that can be labeled as supporters are the Eniripsa, Feca, Osamodas and Sacrier. Despite this classification, all of these classes can be very powerful when fighting independently in battles, especially the Sacrier. Being a supporter simply means that they are much more effective when fighting in a team.
Multi-Purpose
Classes that can serve a variety of purposes, depending on how they are developed, are the Enutrofs and Pandawas. These classes are the most difficult to play.
Enutrofs can be developed into flexible supporters or long range attackers, with MP removal capabilities in both cases. As supporters, they can provide limited defense and healing, as well as boosting the entire team's offense. As attackers, they have very long range and can deal high damage at medium range. To lesser extents, they can fill the shoes of the Osamodas and the Cra, but neither can provide as much support nor deal as much damage at long range. What makes them special is their ability to also disable enemies with MP removal spells. As a bonus, they have superior Prospecting to other classes.
Pandawas have the option of becoming defensive supporters or mid-range attackers. As supporters, they function similarly to the Sacrier, with limited healing, good tanking capability and excellent repositioning abilities. Their advantages are being able to increase damage dealt to enemies and heavily weaken their offense. As attackers, they are able to deal high damage at moderate range. Their resistance to MP loss and their ability to dispel effects on themselves makes them hard to pin down.
Masqueraiders can, just like the Pandawa, take on the role as a defensive supporter or a strong offensive unit. They provide shields to their teammates and themselves while on defense, and can dish out some great damage when going in offense. Their arsenal of spells allows them to maneuver over the map quickly and also allows them to somewhat move allies around when they desire to. Their different masks makes them able to adapt to any given situation.
Specific Factors
Edit
Class
Solo Combat
Team Support
Range
Damage
Evasion
Cra
++
Average
+
Limited
Buffs damage, range & Critical Hits.
+++
Long
Best Range
++
Average
++
Average
Attacks reduce range, AP, MP, or inflicts knockback.
Ecaflip
+
Difficult
++
Fair
Invisibility detection. Buffs damage, Critical Hits, permanent damage , AP, MP & HP. Provides random effects. Moderate healing with certain builds.
++
Medium
+++
High
++
Fair
Has a knockback attack. Summoning Claw heals allies and distracts enemies. Has potential damage reversal.
Eliotrope
++
Average
++
Fair
Has the ability to transport allied attacks across the map via portals and magnify the damage.
++
Medium
+++
High
+
Limited

Eniripsa
+
Difficult
+++
Good
Best support
Massive healing. Buffs AP, range & healing. Reduces and reflects damage taken. Dispels effects.
+
Short
+
Low
+++
Good
Has knockback & dispel. Can reduce AP & MP.
Enutrof
++
Average
++
Fair
Buffs Power, Dodge & MP. Protects allies with Living Bag. Extra Prospecting provides better drops. Major healing with (Bribery).
+++
Long
++
Moderate
++
Fair
Reduces range, AP & MP. Has an attack that reduces MP. Summons distract enemies.
Feca
+++
Easy
+++
Good
Greatly reduces damage taken. Provides temporary immunity. Has a variety of glyphs which have various effects.
++
Medium
+
Low
++
Good
Can teleport. Reduces AP & MP. Has an attack that reduces AP. Has temporary immunity and damage cancelation.
Iop
+++
Easy
+
Limited
Buffs damage & HP.
+
Limited
+++
High

+
Limited
Can jump. Has knockback as an attack and a support spell.
Masqueraider
++
Average
+++
Good
Buffs Damage, Lock and Dodge. Can easily move through the map and accommodate allies and enemies
+
Limited
+++
High
Very powerful under level 100.
++
Fair
Can push enemies, or easily escape via teleportation or cowardly mask. Most spells cost a moderate amount of AP.
Osamodas
++
Average
+++
Good
Gives minor buffs to damage, AP, MP & HP. Reduces damage taken. Moderate healing. Resurrects teammates.
++
Medium
++
Moderate
++
Fair
Summons distract enemies, have knockback attacks, and reduce AP.
Pandawa
+
Difficult
+++
Good
Buffs MP. Protects against MP loss and dodge lock. Master in map manipulation, can lower the resistance (by increasing damage taken) of monsters, can heal with barrel or dodge lock enemies with Pandawasta
+
Limited
++
Moderate
+++
Good
Can dispel and carry & throw allies & enemies. Has knockback. Prevents dodge lock. Reduces damage and the length of buffs. Disables weapon usage.
Rogue
+
Difficult
++
Fair
Buffs AP, MP and Damage. Can Unbewitch
+++
Long
+++
High
Deals good Area of Effect damage
+++
Good
Has knockback and attract. Can swap places with a bomb, knockback attackers and make doubles. Bombs distract enemies.
Sacrier
+++
Easy
++
Fair
Protects allies. Moves allies and enemies. Moderate healing. Increases ally damage.
+
Limited
+++
High
+
Limited
Can step back to avoid damage. Reduces dodge.
Sadida
+++
Easy
+
Limited
Area of Effect attacks often hurt allies. The Inflatable provides minor healing and buffs MP.
+++
Long
+++
High
Best Area of Effect damage
++
Fair
Has dispel. Reduces Intelligence, AP, AP resistance, MP & MP resistance. Has temporary immunity. Summons distract enemies.
Sram
++
Average
+
Limited
Makes an ally invisible. Buffs Critical Hits.
++
Medium
+++
High
+++
Good
Has invisibility. Has knockback as an attack and a support spell. Reduces MP. Double distracts and locks enemies.
Xelor
++
Average
++
Fair
Buffs AP. Protects against AP loss. Reflects damage taken.
+++
Long
++
Moderate
+++
Good
Can jump and teleport. Reduces AP resistance. Attacks reduce AP. Steals AP with an attack and a support spell. Is able to manipulate the map in a variety of ways.
Character Faces
Edit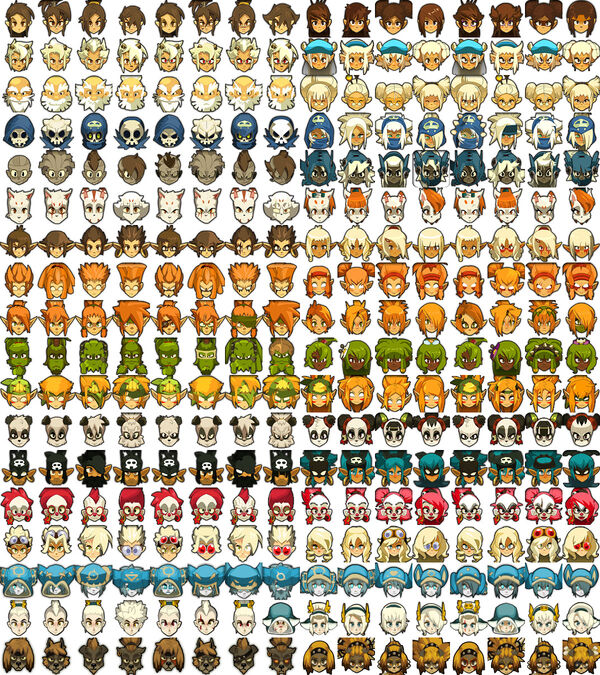 Incarnations
Edit
Incarnations are special classes.
As is usual for Ankama, names are anagrams, references, or in-jokes from the developer team.
Feca, Iop and Sram are meant to have been the first three classes created, so the developers named them after their favorites among the various snacks they consumed when first creating the game (coffee, yogurt drinks, and chocolate), and the names have nothing to do with the classes themselves.
Community content is available under
CC-BY-SA
unless otherwise noted.