Equipment Details

Damage :

Effects :

Conditions :

Official Description

"The Crocodyls were in their thousands, a few hundred kametres from the city gates. We had prepared for the assault, the full guard were assembled in front of the main gate, and the war machines had been set up on the ramparts. The sight of the gigantic army of reptiles was already terrifying, but the worst was when we saw them. Crocoburio stood in the midst of his soldiers, several heads taller than all of them, brandishing his cursed sword towards us. When the green mass began to march, a shiver ran through our ranks, and we knew that the battle that was about to take place would be terrible." — A Bontarian soldier
Crocobur is a Sword.
Legendary Effect
Edit
The bearer steals health in their best attack element from adjacent enemies at the end of the turn.
Obtaining
Edit
Crafted by a Smith (Lv. 200) from
In Dofus 1.x Crocobur was a Mutation Item. It could be used to acquire the Crocoburio Transformation.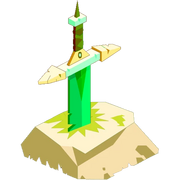 The Mutation Item was at [-7, 10] in Amakna Swamps.
Crocobur is no longer interactive as of the 2.0 update, except during the Sword from the Stone quest.
Community content is available under
CC-BY-SA
unless otherwise noted.