Item Details

Effects :

Conditions :

Level : 200
Category : Chest

Sells to NPC : 1 kama
Weight : 10 pods
Official Description

You ransacked the Enutoughs' land, going so far as to steal their chests. Was it really worth the risk?
Enutough Chest is a usable item.
Obtaining
Edit
Picked up in
You may get attacked by the area's monsters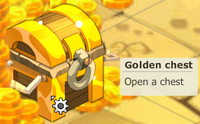 Use to obtain
Community content is available under
CC-BY-SA
unless otherwise noted.