Resource Details
Official Description

This powerful, protective talisman was given to you by the goddess Feca herself. You therefore attach more importance to it than whatever's usually lying around in your bag. Thanks to the Aegis, you'll be able to cross the borders of the regions haunted by the Veriun Dead without fear of joining their ranks. Rest assured: you'll still be able to die, but in a clean fashion.
Feca's Aegis is a quest item.
Obtaining
Edit
You can obtain it through your respective class temple. You must speak to an NPC in your temple that directs you to the quest Anger of the Gods.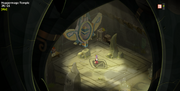 Once you interact with your class god statue, it will allow you to teleport yourself to the realm of the gods, this is where you update your quest and receive the quest item.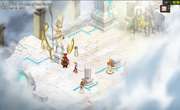 Other