See also: Internal links
Dofus Wiki Editing Guide on YouTube
You regularly use the Dofus Wiki to look up things, but you never really got into all the editing and updating. Now you found some info that's missing or wrong and you'd like to help out. But actually, you're not quite sure what to do.
This little guide is for you, then. It's meant to cover only the basics for casual Wiki users. If you have any questions regarding the Wiki feel free to ask them in the Forums.
Editing
Don't forget to follow Templates when adding a new page or editing Templates on an already existing one.
If you only want to edit minor information in a page, Visual Mode suffices, though if you want to change Templates or the page's structure, you must use Source Mode to avoid breaking the page. You can also permanently disable Visual Mode and activate Source Mode in your user settings here.
Classic Editor/Visual Mode
Source Mode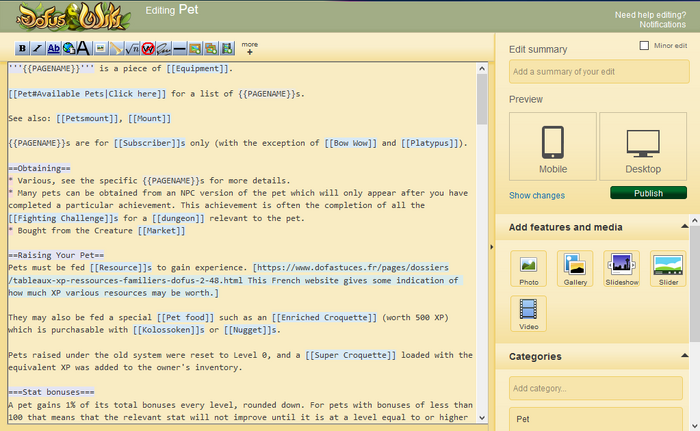 You see the source code of the page. And while you don't know what all the commands mean, you can easily recognize the page you saw earlier. You can start replacing the wrong or missing information. (Tip: If you forgot what you are editing, or just want to see if the page looks good, there are two Preview buttons in the right side "Mobile" and "Desktop", you should only use "Desktop", when you click it, the page you are currently editing will pop out with your changes so you can see if you made any mistakes that you can fix, your work will not be lost and you can continue editing by exiting the pop out that appeared)
You're done with your edit now. In the right side there is the green button "Publish" that will save your changes, but just in case, check the page one last time with the "Desktop" button to see if everything looks good. Optionally, in the text box you can add what you just changed.

Below are some official guides on how to edit by the Wikia.
Community content is available under
CC-BY-SA
unless otherwise noted.