This article needs a bit of cleaning up:
It is almost all the way done, just missing a few details here and there. Please help us flesh out whatever is missing.
It's Actually Very Natural is a quest.

Formerly known as Introduction to the character of... the Sadidas!.

Obtaining
Edit
Talk to Sadadi Sama at [1,-16] in Astrub City.
Collect some Papadalupapadipu Nectar
Enter Astrub Mine at [1,-17], and follow the path for 2 maps. Click the patch on the ground, and you will enter combat with an Aggressive Arachmutated.
You will drop 1 Treacle Sample.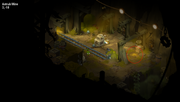 Keep choosing "Keep it in" / "Hold on" and he will eventually give up.
You will receive 1 Fhaart Bile.
You will receive 1 Cirle Drawde Potion.
You will receive 1 Sadadi Sama's Elixir.
Double click the elixir in quest items at [-2,-15].
You pour all of the elixir and wait long enough to doze off. You wake up serveral hours later; you can't see any changes.
Find the map: Sadida Thicket
He is now at the same map [-2,-15].
You will recieve 1 Erty Trapchet's Recommendations.
Community content is available under
CC-BY-SA
unless otherwise noted.