This page is missing dialogue at one point or another:
Other than that, the page should be totally complete, but at some point we need to add the dialogue. If you know any of it, chip in
,
every bit helps.
Quest Summary
Starting
Talk to Oto Mustam at [-26,36]
Level required
110
Other prerequisites
Welcome Back (Brakmar Quest #45)
Recommended level
116
Total rewards
Alignment Level 46, Level-Based XP (Max: 1,781,736)
Items required
(not provided by quest)
2,000 Kamas, 50 Silicate, 1 Blaze Potion, 1 Gust Potion, 1 Landslide Potion, 1 Mother of Pearl
Sequel
Burglary (Brakmar Quest #47)
Repeatable
No
Kain Dharyn's Crystal is a quest.
Talk to Oto Mustam at [-26,36].
Step 1: Sabine's Kidnapping
[
edit
|
edit source
]
You must kidnap Sabine and put her somewhere she won't be able to escape from.
At [-34,-61], go inside the house above the workshop and go upstairs to talk to Sabine.
You will enter a fight against 1 Sabine (monster).
Other characters can join the fight
Take Sabine to Oto Mustam by force. You'll have to make sure she doesn't get an opportunity to escape.
You need to find another Brakmarian to stand directly in front of Oto, while your own character is standing in front of Mak Gahan. The other person must be up to at least level 16 of the alignment quests, though they do not need to have their wings active.
Sabine is well-guarded, so you'll have to find a way to contact Captain Starky in order to get a Kain Dharyn Crystal as ransom.
The message was sent to Captain Starky. See if Sabine kept calm while you wait for a reply.
Find the map: Sabine's prison

[-28,34]
You will enter a fight with 1 Sabine's Guardian against 2 Infiltrated Militiaman.
Other characters cannot join the fight.
Step 5: Crime Will Pay, By Brakmar
[
edit
|
edit source
]
The Bontarians tried to save Sabine. You can't let them get away with that! Go show them who's boss.
Talk to Sabine's Jailer

[-28,34]
You will lose 2,000 Kamas.
Wait for the Bontarians in Sabine's prison

[-28,34]
Talk to Captain Starky inside the house.
You will receive 1 Kain Dharyn Crystal.
You have to take the secret passage to the alchemists' workshop with masters of the profession.
Enchant Kain Dharyn's crystal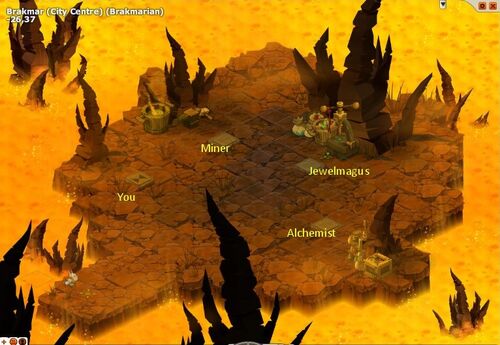 Acquire 1 Blaze Potion, 1 Gust Potion and 1 Landslide Potion. Inside the Alchemist workshop, click behind the big trunk to get to the secret room.
You will need 3 other characters, who are a level 158+ Miner, Alchemist and Jewelmagus respectively. Have each character stand on a white tile that represents their profession, then step on the tile with the symbol then have them all pull the lever then you pull the lever but it has to happen fast. If you have all ingredients in your inventory, the quest will update and you will receive an Enchanted Kain Dharyn Crystal.
Level-Based XP (Maximum: 1,781,736)
Alignment Level 46
Kain Dharyn's Crystal is a reference to Khaydarin crystals from the strategic game StarCraft.
Community content is available under
CC-BY-SA
unless otherwise noted.