Kickroach's Lair is a dungeon.
Kickroach's Lair is found at [3,-17] in Astrub City on the third floor of the Kerub's Shop (Kerub's Attic). 
Entry requires giving a Kickroach's Lair Key to Rolipolipug, which is consumed.
To reach the NPC you need to equip a Rikiki Wand to become smaller and be able to enter the rat hole. (If one group member equips the wand they can Teleport the rest of the group.)
Mobs do not vary. Challenging is possible.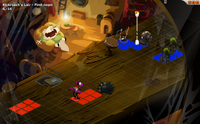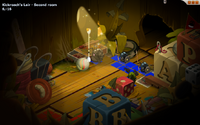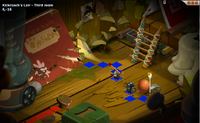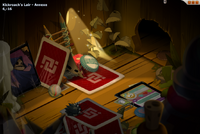 Annex Room
Edit
With the Rikiki wand equipped, go into the card tent to the left. Go in as far as you can and it will put you in another room. Click on the strawberry close to the front to get the Famished Emote. This will also put you into the next room.

There's no specific reward from Kickroach's Lair except the chance to find Kickroach and Gluwax.
It is also possible to get the Famished Emote.
Kickroach's Lair is one of the three dungeons available to F2P players.
The quest Miniature Adventure is started in the room after the boss fight.
Community content is available under
CC-BY-SA
unless otherwise noted.