This page is missing dialogue at one point or another:
Other than that, the page should be totally complete, but at some point we need to add the dialogue. If you know any of it, chip in
,
every bit helps.
The Smith is a quest.
Obtaining
Edit
Talk to Oto Mustam at [-26,36].
Step 1: Hammer and Anvil
Edit
Oto thinks that Bonta gets help from a mercenary blacksmith. You must investigate in the blacksmiths' and miners' workshops to find evidence.
Find the blacksmith who works for Bonta
Drag select right then down from → to see spoiler.
→ Talk to Norb at [3,29].
Find the map: Hideout in the Porco Territory
Go to [1,32] and enter the mine.
You save yourself time if you already bring the supplies for the sequel Acute Paranoia (5 Etching Board, 10 Frying Oil, 1 Purple Bwork Leather Dragobutt, 1 Watchamatrich Tongue).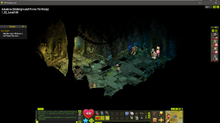 Take the second gate to the left (the one with functional switch) and you'll find a mob of 2 Boobytrapped Chest, 3 Pebble Pusher and 3 Robo Mace. Kill the mob and you get to a maze. Avoid the wooden tiles and have the 4 characters stand on the letters N A R A. This opens the door to the next room where you have to fight another mob of 3 Boobytrapped Chest, 3 Robo Mace and 2 Pebble Pusher.
Level-Based XP (Maximum: 5,134,361)
Alignment Level 57
Community content is available under
CC-BY-SA
unless otherwise noted.